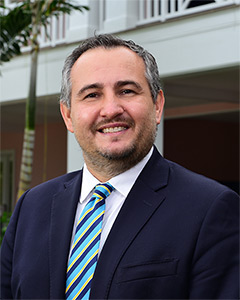 Mr Frédéric Bournas was appointed Acting Principal of Lyford Cay International School in October 2023 following the sudden passing of former Principal Dr David Mindorff.
Mr Bournas has over 25 years of experience in the field of education, both as a teacher and school leader.
Mr Bournas holds his teaching qualification and Bachelor's in Education from the University of Ottawa, Canada. Additionally, he holds a Bachelor of Arts in Management, Human Resources, and Public Administration, a Master of Arts in Political Sciences from the University Paris-Nanterre, and an MPhil/Diplôme d'Études Approfondies from the University of Paris Pantheon-Sorbonne. He has worked at LCIS for 16 years.
Prior to working at LCIS, Mr Bournas taught at other renowned schools worldwide, including the American International School of Bucharest, Sterling Hall School, and Appleby College in Canada. He has an extensive teaching portfolio, covering multiple IB PYP, MYP, and DP courses, including French, Individual and Societies, History, Design Technology, Information Technology in a Global Society, Physical and Health Education, and more.
Mr Bournas has served as a Middle Years Programme Moderator for the International Baccalaureate Organisation (IBO) and is currently a Council of International Schools (CIS) Accreditation Evaluator.
Mr Bournas and his wife Syreta have four children, Issa, Mathis, Yohan and Anaïs, all of whom are LCIS students.